Spoiler:
Main Deck: 40Monsters: 20
3 The Agent of Entropy - Uranus
3 The Agent of Mystery - Earth
3 Master Hyperion
3 Herald of Orange Light
2 Archlord Kristya
3 Artifact Moralltach
1 Artifact Beagalltach
1 Black Luster Soldier - Envoy of the Beginning
1 Honest
Spells: 9
3 Artifact Ignition
3 The Monarchs Stormforth
1 Mind Control
1 Soul Charge
1 Book of Moon
Traps: 11
3 Call of the Haunted
3 Artifact Sanctum
3 Vanity's Emptiness
1 Solemn Warning
1 Compulsory Evacuation Device
Extra Deck: 15
1 Leo, the Keeper of the Sacred Tree
1 Armades, Keeper of Boundaries
1 Goyo Guardian
1 Black Rose Dragon
1 Ancient Sacred Wyvern
1 Michael, the Arch-Lightsworn
1 Stardust Spark Dragon
1 Scrap Dragon
1 Number 61: Volcasaurus
1 Artifact Durendal
1 Constellar Pleiades
1 Constellar Ptolemy M7
1 Gaia Dragon, the Thunder Charger
1 Alsei, the Sylvan High Protector
1 Divine Dragon Knight Felgrand
Side Deck: 15
3 Maxx "C"
3 Shadow-Imprisoning Mirror
3 Trap Stun
3 Malevolent Catastrophe
1 Thunder King Rai-Oh
1 Raigeki
1 Soul Drain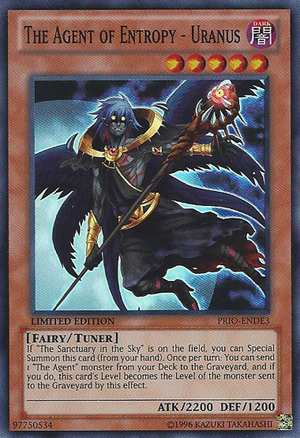 This card got released in Primal Origin as a Super Rare and has made it's appearance in Duelist Alliance as a Common. The question for all of the Agent enthusiasts like myself, was how to put Uranus to use. With it's Level 5 tuner status, it is yet another card that can be paired with the Artifact engine, this time to summon a very powerful Level 10 Synchro.
Credit goes to Kyle Schrader for the original idea, although mine plays a bit differently, as I think Call of the Haunted is way to good to not be used in here. The basic gameplan of this deck is to search out Uranus via Earth, then summon him and pair him with Moralltach to synchro summon Leo, the Keeper of the Sacred Tree. Leo is exceptionally hard for Burning Abyss and Satellarknights to deal with and can win games on it's own against both of these strategies. Against Shaddolls one has to be cautious though, because they have access to Construct to easily get rid of him. You only summon him in that matchup if you have protection, for example in the form of Vanity's Emptiness or Herald of Orange Light.
Call of the Haunted has good synergy with both the Artifact and Agent core, as it can bring back Moralltachs for additional pops or revive your boss monsters and also help with the synchro and tribute summoning. It is easily set up by Herald of Orange Light, who not only negates pesky monster effects, but also takes care of dead drawn Artifacts or bosses in your hand. The Monarchs Stormforth works well to summon Uranus, Hyperion or Kristya, or one of the Artifact monsters when you are in a pinch. Kristya is the most powerful out of the bunch, because it has the ability to completely lock your opponent out of the game. Also, since this deck uses so many tuners and since Uranus can change it's level, you can easily put a plethora of Synchro and Xyz monsters on the field.
Another fun deck for you to try.