"There is a darkness in you. In all of us, probably. Beasts we keep chained. Ordinary men have to keep the chains strong, for if we let the beast loose then society will turn upon us with fiery vengeance. Kings though...well, who is there to turn upon them? So the chains are made of straw. It is the curse of kings that they can become monsters. And they invariably do."
― David Gemmell, Shield of Thunder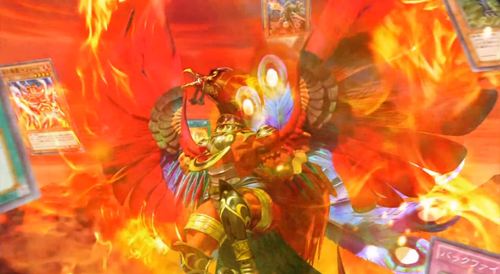 Fire Kings:
Monsters: 16
3x Fire King Avatar Barong
3x Fire King Avatar Yaksha
3x Coach Soldier Wolfbark
2x Fire King High Avatar Garunix
2x Flamvell Firedog
1x Brotherhood of the Fire Fist - Bear
1x Flamvell Magician
1x Earthbound Immortal Ccaryhua
Spells: 16
3x Onslaught of the Fire Kings
3x Circle of the Fire Kings
2x Fire Formation - Tenki
2x Rekindling
2x Mystical Space Typhoon
2x Forbidden Lance
1x Dark Hole
1x Fire Formation - Tensu
Traps: 8
2x Fiendish Chain
2x Dimensional Prison
1x Torrential Tribute
1x Solemn Warning
1x Bottomless Trap Hole
1x Compulsory Evacuation Device
Extra: 15
1x Hierartic Sun Dragon Overlord of Heliopolis
2x Diamond Dire Wolf
1x Brotherhood of the Fire Fist - Tiger King
1x Bujintei Kagutsuchi
1x Gagaga Cowboy
1x Maestroke the Symphony Djinn
1x Number 50 - Blackship of Corn
1x Abyss Dweller
1x Evilswarm Ourobouros
1x Crimson Blader
1x Scrap Dragon
1x Colossal Fighter
1x Stardust Dragon
Side: 15
2x Imperial Iron Wall
2x Royal Decree
2x Shadow-Imprisoning Mirror
2x Light-Imprisoning Mirror
2x Effect Veiler
2x Maxx "C"
1x Sacred Phoenix of Nephthys
1x Fencing Fire Ferret
1x Mystical Space Typhoon
Been testing this deck a lot lately with very good results. I won't say it's Tier 1 or anything because it's not TOO difficult to counter or predict, but at the same time it has lots of options and tricks. People make the obvious comparison to Dark World, but it is not so linear and therefore way better. Garunix isn't even summoned every duel. It can play stunnish or XYZ spam. But when you do get him Garunix + Phoenix is sick. No Heavy? No problem. You can turn the whole game around in one move. It is also better than Dark Worlds because there are so many tech options. Fire Fists, Fencing Fire Ferret, Blaster, Inari Fire, Flamvell Firedog, The Wicked Eraser, Goka the Pire of Malice, these are all good techs that fit the theme very well. And there are other non monster techs like Call, Duality, etc that I'm not using. I'm open to change. Bear needs to stay, sometimes I want a second but mostly I want a Gorilla instead. But I feel with Dragons and Mermail being Tier 1, having Phoenix, 2 MST and 2 Lance is enough dead draw for the main deck so Gorilla is in side. Ferret is great because screw Ophion. Yaksha + Eraser is great because screw everything.
Any ideas?